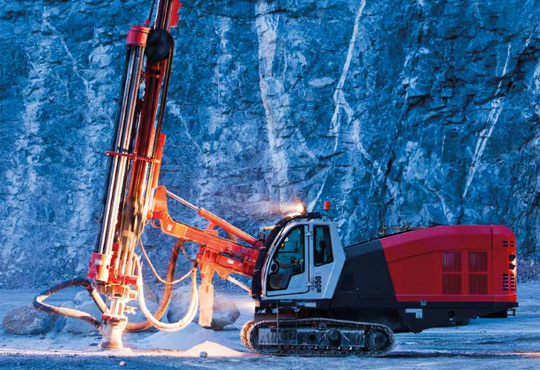 Sandvik proposes tools and high-tech equipment for the mining and construction fields. By manufacturing to the smallest component of its machines in its own factories, Sandvik offers quality and durability that make the difference in these fields of activities where endurance and strength are essential for success. As agent, Cerco provides the entire range of new or second-hand machines, that are required for your applications and projects.
For more information, please visit www.sandvik.com.

DI550 Leopard
A down-the-hole drilling rig for contractors and medium-to-large quarries. Equipped with a 5" DTH hammer, it increases productivity while keeping fuel consumption and operating costs low. With 4" and 6" hammers, this machine is just as effective. Simple to use, comfortable and efficient, the DI550 offers a quality environment to the operator: a design and soundproof cabin where vibrations are not felt and a user-friendly control screen.  Safety is a strong point of the Di550 that offers stability, multiple glazing windows and a windshield equipped with a protective grid. Its cabin is ROPS and FOPS certified.
DP1500i Pantera
The DP1500i is an intelligent, hydraulic, self-propelled, hammer drilling rig on tracks. Fully equipped, the rig from a new generation produces a range of information including the drilling conditions and the work performance. Intelligent drilling parameters, advanced ROPS/FOPS certified safety cabin, excellent visibility and step by step troubleshooting instructions truly ease the work performance. DPi's technical solutions also respect the Environment; the new Circulating Shank Lubrication System (CSL) circulates shank lubrication oil through filters and reduces oil consumption up to 70 % when compared to traditional systems.
DX700/800 Ranger
Sandvik DX700 is a hydraulic, self-propelled, self-contained surface rig on tracks with a high-visibility cabin (ROPS/FOPS certified) and a sophisticated rod handling system. The DX's renewable superstructure, its power, its precision and its versatility make it an ideal choice for construction, quarrying, or surface mining operations. Its stability is excellent in uneven terrain and the DX700 can drill continuously for 12 hours while keeping its precision through the "Rock Pilot" drilling control system.